On 20 May, SS NCO Gerhard Palitzsch brought 30 Germans from Sachsenhausen Concentration Camp, almost all of them criminals. These first "trusties" were allocated numbers from 1 to 30. In charge of them was No 1, Bruno Brodniewicz, who became Auschwitz's senior prisoner. Prisoner No. 30, Leon Wieczorek, was appointed Rapportführer, responsible for discipline.

The first transport of Polish, non-Jewish prisoners arrived by train from Tarnow gaol on 14 June 1940, 728 altogether, who were given numbers 31 to 758. On the same day, Paris fell to the advancing German Army.

From the start these prisoners were allowed to Correspond with their families on pre-printed camp stationery, envelopes, letter sheets, letter forms and postcards. Illustrated is a cover from one of this very first batch of prisoners, No. 89, Kasimir Andrysik, who had the distinction of escaping from Auschwitz in 1944, and also survived the war. The letter is to his wife.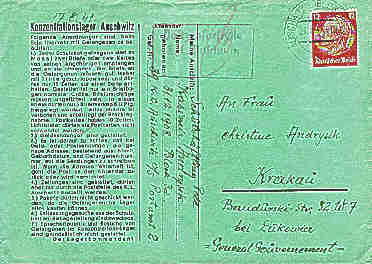 Fig. 1 A cover from Auschwitz written by Kasimir Andrysik, a Polish political prisoner who was in the very first batch of prisoners taken to the camp. His prison number was 89, and this is surely one of the lowest number covers in private hands. Andrysik escaped from Auschwitz and survived the war.